Profitable UV printing starts here.
Roland DG's VersaUV LEF-12i UV printer offers countless product customisation and substrate possibilities, including printing directly on three-dimensional objects up to 100mm thick.
A Cool Machine for Customising Hundreds of items
Using state-of-the-art UV-LED lamps, the LEF-12i is low-heat, cool-running machine that combines with hi-tech ECO-UV inks to print on to a wide variety of materials.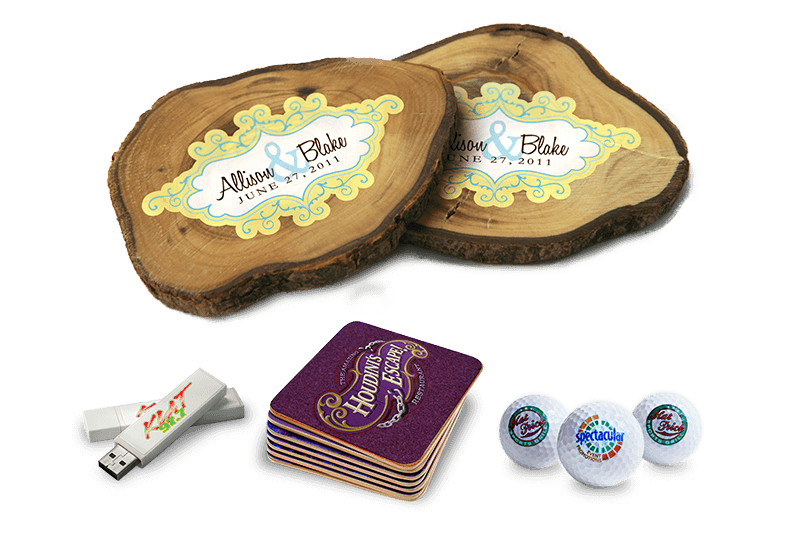 Versatile, Flexible, Brilliant
With the magic of LEF-12i flatbed UV printing, you can print graphics and add stylish finishes to standard substrates as well as unique promotional items.
Gloss ink option enables spot gloss or matte finishes, as well as highly unique embossed effects
Print on three-dimensional objects with ECO-UV inks that image brilliantly and stretch around complex corners and curves
Perfect for pens, smart phone covers, personalised awards, giftware and so much more
Add White ink as a spot color or as a flood behind CMYK on dark backgrounds and clear materials
The Wonder of ECO-UV Ink
Available in CMYK, White and Gloss, ECO UV ink offers the following benefits:
Clean and efficient 220ml cartridges
Instantly dries to produce mess-free, wide color gamut results
Highly-flexible - stretching around curves and irregular surfaces without cracking
Produces durable indoor graphics with scratch and chemical resistance
Outdoor graphics last from six months to two years when Clear Coat ink layer is applied
Proper ventilation is required during UV production. An optional BOFA Air Filtration Unit for use with the LEF-12i is available and doubles as a stand and storage unit for jigs, fixtures and supplies.
Energy Efficient UV Lamps
The LEF-12i features energy-saving LED lamps that last up to ten times longer than conventional UV lamps. These can be instantly switched on and off for a true on-demand operation that doesn't require a long warm-up time. In addition, the LEF has an automatic low-power mode that is switched on when not used after an extended
Roland DG quality and reliability is standard
The LEF Series benchtop UV flatbed printers feature an industry leading 3-Year Heads 'n All Warranty. Roland DG is committed to customer satisfaction and providing unmatched reliability, earning a reputation for long-lasting, high-performance devices backed by first-rate customer service. Roland DG proudly displays all international ISO certifications as your assurance of superior quality.
Download Brochure
Specification:
| | |
| --- | --- |
| Printing method | Piezoelectric inkjet / Table feed system |
| Acceptable media - Width | 335 mm |
| Acceptable media - Depth | 310 mm |
| Acceptable media - Thickness | 100 mm |
| Acceptable media - Weight | 5 kg |
| Printing area | 305x280 mm |
| Ink cartridges - Type | Roland Eco-UV inks |
| Ink cartridges - Capacity | 6 cartridges - 220 ml (± 5 ml) |
| Ink cartridges - Colors | 6 colors (Cyan, Magenta, Yellow, Black, White and Clear) |
| Ink cartridges - Configuration | CMYK+White+Clear |
| Printing resolutions | Maximum 1440x720 dpi |
| Distance accuracy when printing | Error of less than ± 0.3 % of distance traveled, or ± 0.012 in (0.3 mm), whichever is greater |
| Interface/Connectivity | Ethernet (10 BASE-T / 100 BASE-TX, automatic switching) |
| Power-saving function | Automatic sleep feature |
| Power supply - Voltage and frequency | AC 100 to 240 V ± 10%, 50/60 Hz |
| Power supply - Required power capacity | Maximum 1.8 A |
| Power consumption - During operation | 156 W |
| Power consumption - Sleep mode | 16.7 W |
| Acoustic noise level - During operation | 60dB (A) or less |
| Acoustic noise level - During standby | 49dB (A) or less |
| Outer Dimensions | 998 (W) x 867 (D) x 546 (H) mm |
| Weight | 85 kg |
| Environment - Power on (*2) | Temperature: 20° to 32°C [22°C] or more recommended), Humidity: 35 to 80% (no condensation) |
| Environment - Power off | Temperature: 5° to 40°C, Humidity: 20 to 80% (no condensation) |
| Included items | Power cord, adhesive sheet, software RIP (Roland VersaWorks Dual), user documentation |
Roland ECO-UV Inks (Version 4)

Printing

Multiple Options
LEF-12i
LEF2-200
LEF2-300
Max. Print Area
305 x 280 mm
508 x 330 mm
770 x 330 mm
Max. Media (Width x Depth x Thickness)
335 x 310 x 100 mm
538 x 360 x 100 mm

800 x 360 x 100 mm

Max Media Weight
5 kg
5 kg
8 kg
Printing
Uni-Directional
Uni-Directional
Bi-Directional
Ink Configuration Options
CMYK + Clear (gloss) + White

CMYK + Clear (gloss) + White
CMYK + Primer + White
CMYK + White + White

CMYK + Clear (gloss) + Clear (gloss)+ White
CMYK + Clear (gloss) + White+ Primer
Promotional Items

With its ability to print CMYK, White and Clear inks directly around the curves and contours of three-dimensional objects, the LEF-12i is ideally suited for personalising pens, golf balls, key chains and other promotional items. Variable data printing allows you to individualise each item with names, photos and other custom design elements.

Electronic Devices

Low-heat LED curing systems make the LEF2-12i ideal for printing on sensitive electronic devices, including tablets and smartphones. High-opacity White ink produces bright, crisp white text and graphics, and can also be printed as an undercoat to enhance full-colour graphics on clear acrylics and darker plastics.

Giftware

With the LEF2-12i , you can print directly on gift items ranging from jewelry and accessories to photo frames, wedding favors, dishware and even fabric items such as leather wallets and purses. Add interesting patterns and textures to your designs with layers of Gloss ink in matte or gloss.

*requires rotary accessory

Awards

The LEF2-12i is the perfect addition to awards and recognition businesses, allowing these shops to add full-colour graphics to engraved items for high-impact results. White ink allows you to print on clear acrylic awards as well as dark-colored plaques. Gloss ink adds elegant embossing and varnishing effects for a premium presentation.

Consumer and Industrial Products

For product designers, entrepreneurs and marketing professionals, the LEF2-12i customises a wide variety of products from toys and sports items to cosmetic cases and control panels. Variable data printing allows you to mark each product or part with individual serial and lot numbers.

Small signage

With the LEF2-12i , you can create a wide range of specialised signs for objects such as car doors, windows and interior spaces. Print directly on wood and other specialty materials for a truly unique look.