Developed specifically for dye sublimation transfer printing, the Texart XT-640 delivers outstanding productivity, exceptional print quality and renowned reliability. Maximise the strength and style of your output across a wide range of applications including sportswear, fashion, soft signage, interior decoration, promotional merchandise and much more.
Distinguishing Features
Durable and lasting build quality for long print runs and non-stop production.
Dual print heads increase production speed and maximise colour quality with 7-droplet technology.
4-colour high-speed printing or 8-colour printing for wider colour gamut and smooth colour gradients.
Roland DG Fluor Colour Library offers hundreds of new colours with new Fluorescent Pink and Yellow inks.
Automatic ink-switching and iPad printer assist for unattended printing.
Error-free media alignment with new feed adjuster, take-up system and powerful vacuum.
5 Year Extended Warranty, including print heads.
A Perfect Balance of Productivity and Quality
With its rugged construction and dual print heads, the XT-640 Dye Sublimation Printer is built to meet the most demanding production and quality requirements. It provides machine stability, a choice of ink configurations, including Fluorescent Pink (Fp) and Fluorescent Yellow (Fy), and is one of the fastest dye sublimation printers on the market. Equipped with automatic ink-switching and iPad printer assist features, it also supports unattended printing on long print runs, even in high-speed modes..
Download Brochure
Media - Width
259 to 1,625 mm
Media - Thickness
Maximum 1.0 mm
Media - Roll outer diameter
Maximum 210 mm
Media - Roll weight
Maximum 40 kg
Media - Core diameter (1)
76.2 mm or 50.8 mm
Printing width (2)
Maximum 1,615 mm
Ink - Types
Texart Ink (1 Litre pouches)
Ink - Colors
4-colour (CMYK) and 8-colour (Choose from CMYK+LcLmOrVi and CMYK+OrViFpFy options)
Available colours: cyan, magenta, yellow, black, light cyan, light magenta, orange, violet, fluorescent pink, and fluorescent yellow
Printing resolution
Maximum 1,440 dpi
Distance accuracy (3)
Error of less than ±0.3 % of distance traveled, or ±0.3 mm, whichever is greater
Dryer (4)
Setting range for the preset temperature: 30 to 55°C
Connectivity
Ethernet (100BASE-TX/1000BASE-T, automatic switching)
Power-saving function
Automatic sleep feature
Power requirements
AC 220 to 240V ±10%, 2.8A, 50/60 Hz
Power consumption - During operation
Approx. 750W
Power consumption - Sleep mode
Approx. 70 W
Acoustic noise level - During operation
62 dB (A) or less
Acoustic noise level - During standby
45 dB (A) or less
Dimensions (with stand))
2,835(W) x 830(D) x 1,650 (H) mm
Weight (with stand)
214 kg
Environment - Power on
Temperature: 18 to 25°C
Humidity: 35 to 65%RH (non-condensing)
Environment -Power off
Temperature: 15 to 30°C
Humidity: 20 to 80%RH (non-condensing)
Included items
Exclusive stands, power cord, media clamps, media holder, replacement blade for separating knife, Software RIP, User's Manual, etc.
(1) The media holder for this machine is exclusively designed for media rolls with a paper tube measuring 3 inches in diameter. To use 2-inches media rolls, the optional media flanges are required.
(2) The length of the production run is subject to the limitations of the software program.

(3) Media type: Media specified by Roland DG Corp.
Temperature: 25°C (77°F), humidity: 50%
Roll media must be loaded correctly.
Excluding expansion/contraction of the media
All corrections or adjustment function of this machine have been made properly.
Print travel: 1 m

(4) Warm-up is required after the power is turned on. This may require 5 to 20 minutes, depending on the operating environment.
Depending on the ambient temperature and the media width, the set temperature may not be reached.
More Choice with 4-Colour or 8-Colour Ink Modes
In 4-colour (CMYK) high-speed print mode, the XT-640 is fast and efficient, producing fine details and deep colour contrast. In an 8-colour configuration (CMYK+LcLmOrVi / CMYK+OrViFpFy), the XT-640 delivers an extremely wide colour gamut with Orange, Violet, Light Cyan, Light Magenta, Fluorescent Pink and Fluorescent Yellow inks. In 8-colour set-up, you have the ability to reproduce Pantone Solid Coated colours as well as having a vast choice of vibrant fluorescents and soft pastel shades.
New Media Feed System for Non-Shift Printing
The XT-640 Dye Sublimation Printer has a new media feed system that supports printing on a range of thick to thin papers. The new media holder keeps everything evenly tensioned and properly aligned while a powerful vacuum holds the paper flat. The front feed adjuster keeps media taut on the take-up reel and the whole system prevents transfer paper from buckling or shifting.
Simply Print and Go with Precision Take-up System
To support long runs, the XT-640 comes standard with a take-up system that features a front-mounted roller and a tension-controlled take-up unit. The following features offer easy and unattended feeding and tracking:
Supports heavy roll media up to 50 kg
Dancer roller with light-tension for stable take-up and easy-release
Fully-adjustable take-up operation allows for precision feeding and versatile media use
Decreased media resistance to dramatically improve feeding accuracy
Automatic Bulk Ink-Switching System
Automatic Bulk Ink-Switching System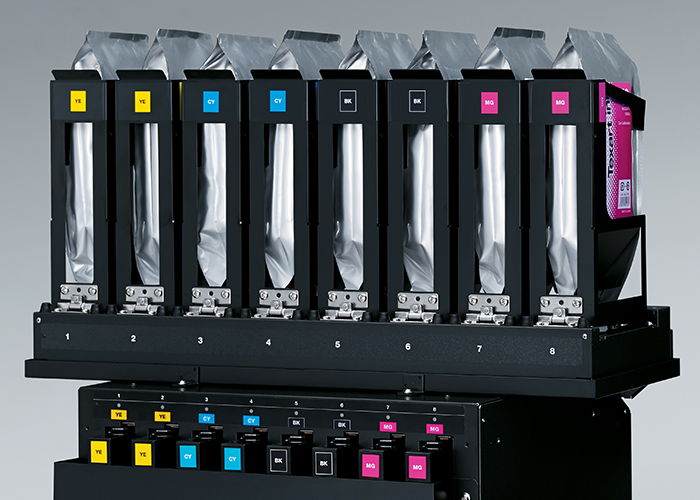 When configured in 4-colour mode, the XT-640 can print continuously. Once the primary ink pouch and sub tank for a particular colour are empty, the ink switching system activates automatically and begins pulling ink from the secondary ink pouch, allowing for maximum productivity and efficiency.

ErgoSoft is widely regarded as the premier RIP software in the textile and dye sublimation market. The Roland Edition of this software is specially designed for use with the XT-640 in 4-colour and 8-colour modes and features the following:
Work in print environments and print modes for the most common fabrics.
Step & repeat and tiling features for advanced media saving and efficiency.
Superior color management with colour replacement and extensive Colorbooks swatches.
Job cost calculation and other advanced production features.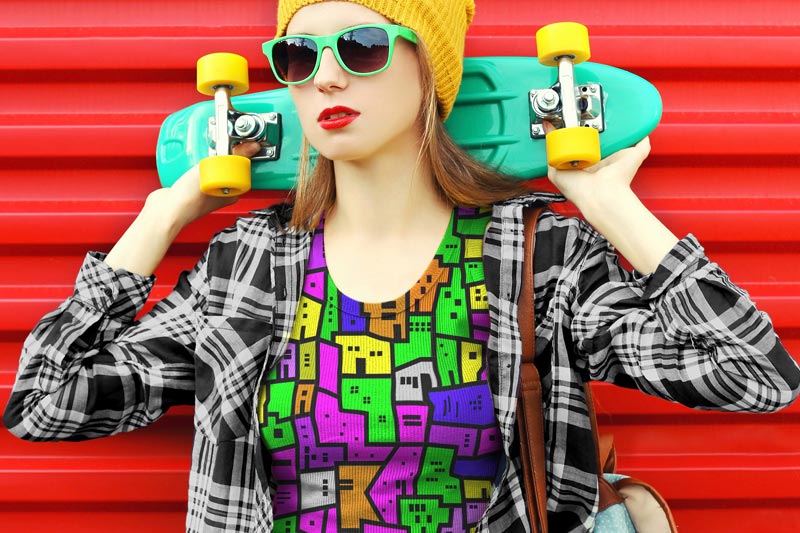 Add Some Rad with Fluorescent Inks
Choose from 375 predefined colors in the Roland DG Fluor Colour Library with new Fluorescent Pink (Fp) and Fluorescent Yellow (Fy) SBL3 Texart inks. Combine Fp+Fy with CMYKOrVi to incorporate brilliant fluorescent colours into expressive sportswear, apparel, soft signage and décor.
Real-Time Support with Roland OnSupport®
Roland OnSupport provides online feedback on machine status via email alerts to the user's computer or smart phone. The system automatically notifies users of job completion, ink consumption, machine usage metrics, maintenance issues and firmware updates. It also provides access to manuals, guides and other support info.
Expect Legendary Roland Quality and Reliability
Like all Rolands, the XT-640 printer is built to provide years of reliable service – even in the most demanding environments – and is backed by our unmatched 5 Year Extended Warranty. Long-lasting, high-performance Roland devices are supported by first-rate customer service, including expert technical assistance and free software updates.Roland's international ISO certifications are your assurance of quality products and service.
Sportswear

Dye sublimation transfer printing is perfect for customising polyester sportswear fabrics and apparel. The XT-640 is the ideal device to create brilliantly colourful graphics for team uniforms, amateur sportswear and professional sportswear.

Fashion and Apparel

Whether you're making your own fashion statement with clothing and pattern design, or company branding T-shirts and apparel, the XT-640 gives you a wealth of fabric and customisation options. It's the perfect machine for high-volume production of corporate clothing or high-end fashion products.

Soft Signage

Create stunning banners, flags, backdrops, point-of-purchase soft signage at high speeds. Utilise the XT-640's additional ink options for producing photographic quality images with subtle skin tones and extremely vivid colours.

Merchandise

Use the XT-640 for customising promotional gifts, gadgets, sports equipment and merchandise. From smart phone cases to custom decorated tiles, the XT-640 is an incredibly reliable and unstoppable dye sublimation transfer printer.

Interior Decor
Put logos, brands, patterns and designs on a wide variety of fabrics for home furnishing, home décor and wall coverings. With the XT-640, you can create high-volumes of décor items quickly.